What is World Sketchnote Day?
January 11 is World Sketchnote Day. Yes, there is a Sketchnote Day. Mike Rohde (Author of the Sketchnote Handbook) and Mauro Toselli created that day a few years ago. It's about empowering people to sketchnote and united the community for a day. What you do is up to you, sometimes there is a topic to deal with or just some meetups. Here is my contribution for 2016:
Happy World Sketchnote Day!
Time for a new video: Why I love #sketchnotes. #SNDay2016
→ https://t.co/Eoc1fk0Smj pic.twitter.com/pzrRILza8l

— Nadine Roßa (@nadrosia) January 11, 2016
What do you do this year?
I had something in my list, that I wanted to sketchnote for a while: How to tie a shoe! So I thought this might be a good opportunity to finally do that.
What's your process on sketchnoting this?2>
Well, I actually thought this might be an easy thing to do. I mean, I've tried millions of shoes over the years so it is something that comes so naturally that you don't even think about it. That should be easy to sketchnote, right? Well, it's not. It was actually much harder than I thought!
So here is what I did: First I put an actually shoe next to my sketchbook. And I very slowly tied a loop to figure out every single step that is important. I tried to see it with kids eyes and then figured out which steps are important.
I made very rough sketches with pencil and paper and then decided it would be easier to use two colors for the laces. I am not a very good three dimensional thinker which made things even trickier.
After that I tried to find a very rough structure.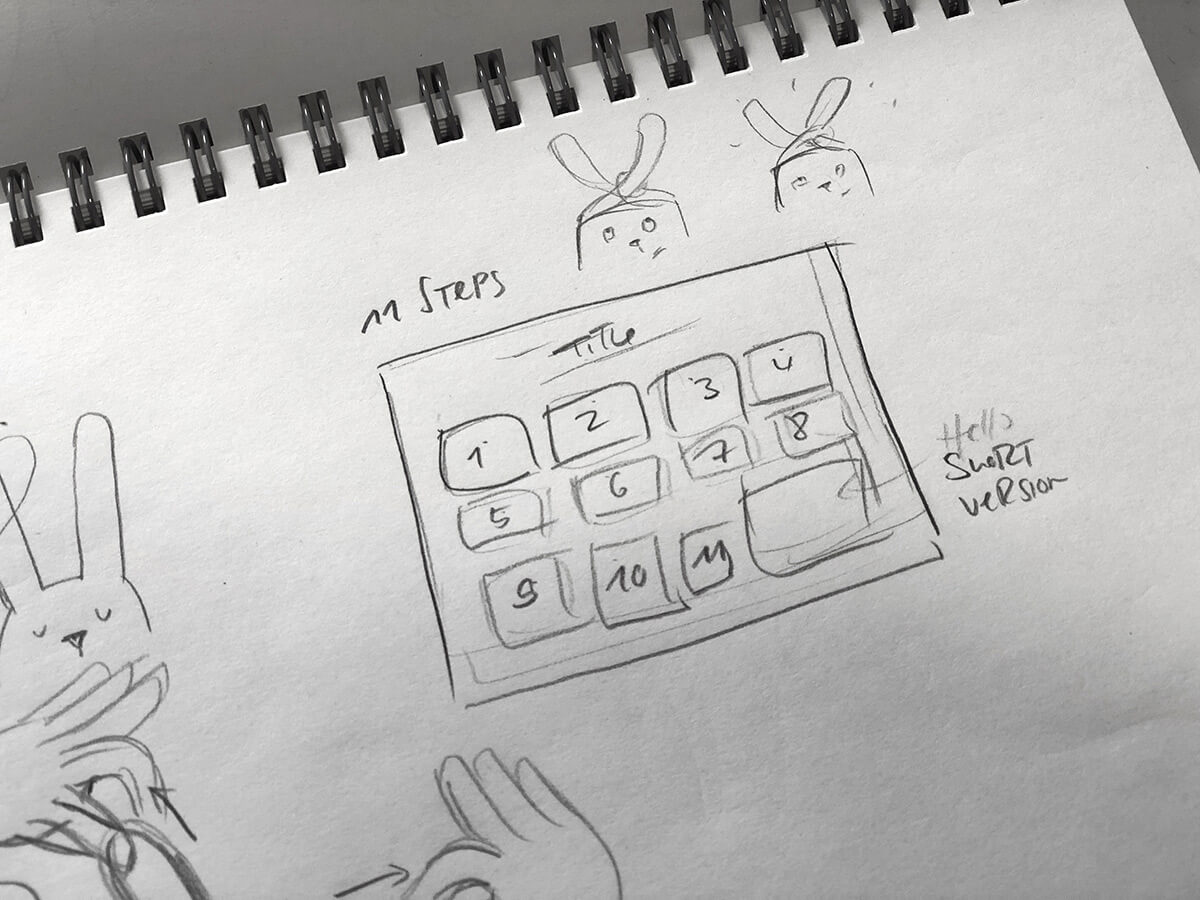 Final Digital Sketchnote
I decided to draw it digitally because I wanted to have a PDF at the end, that I can share with you to use it in Kindergartens for example. It also helped to be able to delete parts of the drawings so that it is easy to see when a lace is beneath or above another one. And I could easily add containers later.
That is the final result:

But as you can see in this video here that was a very long way to go. I tweaked this again and again and it was really much harder than I thought it would be. Natural habits are really not that easy to draw.
Sketchnote Day Give Away
If you want to print this for your kids to learn or for your kindergarten, here are two PDFs you can download. The are under the CC licences (BY-NC-ND) so feel free to use it for your private terms.
How to tie a shoe (English) PDF
Wie man einen Schuh bindet (Deutsch) PDF
What did you do for World Sketchnote Day?